Packing Size

90 enteric-coated soft gels x 2 bottles
Who is it for?
Those who don't consume enough Omega-3s from diet

 

Those who dislike fishy burps after taking fish oil 

 

Elderly 

 

Working adults 

 

Those looking to reduce body inflammation 

 
Each Softgel contains:
Omega-3 fish oil 1200mg
Equivalent to: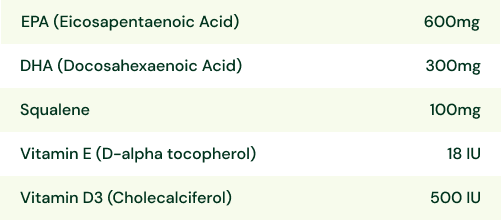 Source of softgel: Bovine Gelatin  
Ingredient Story

Enteric-coated Soft Gels
Burpless fish oil. Biofisiorine is enteric coated, which means that you get all of the benefits of fish oil without the fishy aftertaste. Suitable for those who experience nausea or reflux from other fish oils. 

EPA and DHA (900mg)
Because the body, makes very little DHA or EPA naturally, it is essential that these fatty acids be acquired by diet or supplementation. Omega-3 fatty acids are vital for all cells in your body and they support a wide variety of functions, including brain, heart, nerve and skin health.
Supports both cardiovascular and cognitive health
Helps maintain healthy blood lipids

Squalene (100mg)
Squalene is a polyunsaturated fatty acid that can be transformed into HDL cholesterol.

 As an essential micronutrient and one that is primarily derived from sunlight, vitamin D is important for the development of bones and teeth and the regular functioning of the immune system.

Manufactured in New Zealand
PureMed Biofisiorine uses premium fish oil from New Zealand. It has been tested for mercury and other heavy metals to meet strict international quality standards.
Recommended Dose
Adult: 1-2 softgels once daily after meal or as directed by pharmacist/doctor.
Storage
Store your health supplements in a cool, dry place and keep them out of reach of children. Do not use if the seal is broken, follow the expiration date, and consult with a healthcare professional if needed. 
Note
Contains ingredients derived from seafood.
Frequently Asked Questions
What form does your fish oil come in?
Biofisiorine is in ethyl ester (EE) form. This is because it has gone through a process called molecular distillation to increase its concentration of Omega 3.
Your fish oil has a hard outer layer. Can my body digest it?
The hard outer layer is the enteric coating of the fish oil. It is meant to withstand the harsh acidity of stomach acid to reach the small intestine, where it will then be digested when in an alkaline environment. Therefore, absorption of fish oil is better than those without enteric coating.